Data's role in creating searchable music libraries — Jonathan Parks // ALIBI Music
Jonathan Parks, Founder and Executive Producer at ALIBI Music, talks about how to use data to improve your content management strategies. Data serves as the backbone of creating truly captivating and accessible music libraries. By incorporating a rich array of data, ALIBI ensures that artists and content creators can effortlessly navigate their vast collection and discover the tracks that align perfectly with their creative vision. Today, Jonathan discusses data's role in creating searchable music libraries.
About the speaker
Jonathan Parks
ALIBI Music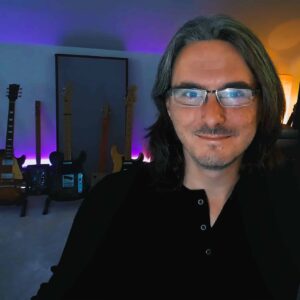 Part 1

Data's role in creating searchable music libraries — Jonathan Parks // ALIBI Music
Show Notes
01:55

The benefits of a searchable music library for artists and content creators

A searchable music library, such as ALIBI, is a catalog of various genres of music and is used in TV shows, trailers, etc. Artists, content creators, etc, leverage it to score stories.

02:29

Understanding royalty

ALIBIs can be categorized as a royalty-free music library in the marketing sense. However, composers and artists still receive payments when their music is licensed, and both the artists and the publisher receive performance royalties from public broadcasts of the licensed music.

03:07

How ALIBI leverages data to simplify the search process in its music library

ALIBI simplifies the search process for creators by ensuring the inclusion of appropriate keywords only. Theyve also built systems to automate the database based on the structure of track titles and file names and provide compatibility with different formats and platforms.

04:43

Human judgment and data management in populating a vast music database

Approximately 50 columns out of the 270 in the database are populated by human beings. This process was initially undertaken by Jonathan for 15 to 20 years before it was handed off so he could focus on getting the database built to manage the extensive amount of data.

05:13

Leveraging data from creators to populate ALIBIs database

ALIBI requires that producers provide lyric sheets and writer information for every song, enabling creators to focus on their music rather than data entry. ALIBI understands that this task requires a combination of composition knowledge and an understanding of video editor needs.

06:22

Utilizing user feedback to enhance tagging and improve database accuracy

ALIBI analyzes the search terms people use and adjusts their tagging process accordingly. If they notice that users are searching for terms not included in their dataset, they can quickly update the entire catalog by finding corresponding words or terms and adding them to relevant tracks.

07:37

Leveraging data organization to enhance music catalog utilization

ALIBI developed a custom website and implemented a comprehensive dataset, including stems, alternate mixes, instrumental versions, and shorter variations. As a result, users are able to easily find and select the specific tracks that suit their needs.

09:43

Using AI to automate music tagging

While multiple companies offer AI tagging for music, ALIBI found that the results often require significant manual corrections. Consequently, it is more efficient to perform the tagging manually to avoid having to ultimately fix everything in the end.

11:08

Exploring partnerships with AI companies for music tagging

ALIBI has partnered with AI companies and shared datasets to explore the potential of creating an advanced music tagging AI tool. However, they have found that certain nuanced human elements in the process of tagging music are often not fully captured by AI systems.

13:30

Tagging large datasets without AI

To efficiently tag large datasets without relying on AI, it is crucial to have individuals who genuinely care about the task at hand. For ALIBI, the data tagging process pulls from pre-existing lists within Excel, reducing the need for manual typing of every word.

15:37

How ALIBI ensures tagging accuracy and quality control

ALIBI has a quality assurance process to validate the accuracy of the tagging process. While the person who has been doing the tagging for a long time is trusted, new taggers are validated by the team to ensure a high-quality product is consistently delivered.
Quotes
"There are multiple companies that offer AI tagging for music. While theyve gotten better over the last two or three years, for what they get wrong, it's easier to do it manually than to go and fix everything."

"We don't want AI to take over music. It'd be great if it could take over the tagging because no one likes to do that. But it's nowhere close, so we're not really concerned yet about it taking over."

"To tag large datasets well without relying on AI, the first step is getting people who really care."
Part 1

Data's role in creating searchable music libraries — Jonathan Parks // ALIBI Music
Up Next:
Part 1

Data's role in creating searchable music libraries — Jonathan Parks // ALIBI Music

Jonathan Parks, Founder and Executive Producer at ALIBI Music, talks about how to use data to improve your content management strategies. Data serves as the backbone of creating truly captivating and accessible music libraries. By incorporating a rich array of data, ALIBI ensures that artists and content creators can effortlessly navigate their vast collection and discover the tracks that align perfectly with their creative vision. Today, Jonathan discusses data's role in creating searchable music libraries.

Part 2

Why data management is the unsung hero of creative businesses — Jonathan Parks // ALIBI Music

Jonathan Parks, Founder and Executive Producer at ALIBI Music, talks about how to use data to improve your content management strategies. Data management ensures that valuable assets are well-organized, easily searchable, and accessible when needed. For that reason, companies like ALIBI Music leverage data management to help their clients navigate its vast database and find the music assets they need for their production projects faster. Today, Jonathan discusses why data management is the unsung hero of creative businesses.

Play Podcast